Yesterday, while browsing to Blackberry Help from my phone, I found out that RIM had release Blackberry App World. The long awaited Blackberry application which is said to be competing with Apple iPhone App Store. Well the main focus is the same: to help users find software easier and better in a single application rather than having to download from several places.



Well personally I think all phones should have this feature as it is very useful. The file size is about 523.4KB and it requires users to restart their phone to use it. Also, RIM included nice collection of wallpapers for your Blackberry device.

All in all, the interface is nice and looks like the default Blackberry Bold theme UI (Blackberry version 4.6). When you first open the application, it will present you with Featured Items with a nice scrolling UI and several icons below it to Categories, Top Downloads, Search and My World. When you select an application, it will show a description of the application and allow you to select several options:

Download - allowing you to download this application directly

Reviews - read reviews on this application

Recommend - recommend this application to your friend via email, MMS, PIN or SMS

Screenshot - showing a screenshot of the application
The best feature I liked from Blackberry App World is to allow you to view screenshots of the application. Very useful whenever you wanted to know what the application does.
Below are several screenshots of Blackberry App World: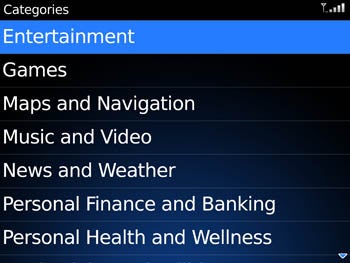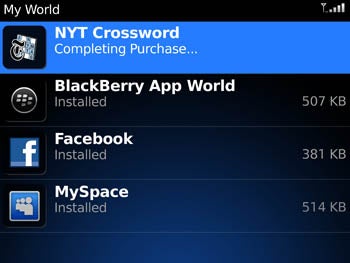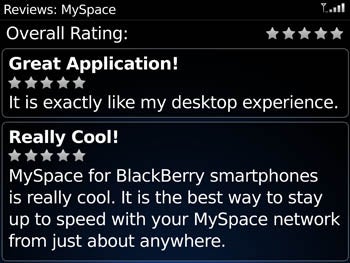 The current version I downloaded yesterday morning was 1.0.0.26 and I re-downloaded it and got a newer version 1.0.0.27 and no information on the newer build perhaps there was bug fixes?
The reason I had to re-download was because I could not delete the downloaded application history, even after I deleted the application it would still be listed in "My World". Well, upgrading to the newer version deleted the installed application history. Funny thing is I thought updates on certain application will appear here but after re-installing the Blackberry App World, it wiped all downloaded application without warning.